By Daniel Ezeigwe
Just recently, precisely on Thursday, October 17, 2023, the Anambra Governor's wife, Mrs Nonye Soludo (PHF), launched pad banks in over four hundred secondary schools across Anambra State where her healthy living clubs are currently domiciled.
The launch of the Healthy Living Pad Banks, marked a significant count in the interventive actions of Mrs Soludo's NGO; Healthy Living with Nonye Soludo, which was officially kicked off in Anambra State in June, 2023.
The global statistics of women and girls with access to basic sanitary needs, do not favour the sub-Sahara African region. Experts say over 47% of women and girls in Nigeria cannot afford sanitary pads. They call it period poverty.
It gets even worse with the current poverty index of the country. Menstrual hygiene remains a largely under-discussed source of worry especially in rural Nigerian homes. Worse is that the phobia of menstrual emergencies often keep girls in their puberty age away from school.
And most times when these emergencies happen in schools, there are hardly handy provision to take care of them. In most cases, the dignity and self-confidence of girls who have experienced menstrual emergencies are generally affected.
The introduction of Healthy Living Pad Banks to these secondary schools where girls are mostly dominant is to address common sanitary hygiene problems and protect school girls during any break out.
Most importantly, the pad banks which will be re-stocked at the beginning of each academic term, will solve the problem of accessibility, and provide a cover to girl child dignity. Mrs Soludo's speech at the launch of the pad bank project interpreted the depth of the program's goal. Relatable, but strikingly potent:
"The statistics of women and girls who lack access to basic menstrual hygiene needs are begging for urgent attention. This is our way of responding. Our Pad Banks will give equal opportunities to girls from every social class, and build a hygiene bond that will last beyond the school walls.
We want to ensure that every school girl can reach her dreams without being afraid of her environment and also create a perfect environment for every girl child to grow happily in without having to be scared of what will happen next. That is part of the ideals of our Crusade."
By incorporating the pad bank program into her Healthy Living project, Mrs Soludo hopes to illuminate the unique lights of her crusade on certain blurred and unspoken paths. Since the central philosophy of her movement is etched in right health, the governor's wife is not one to leave out what the highly politicised society will often describe as insignificant.
The Healthy Living Pad Bank intervention will cut down the figures of girls who lack access to basic sanitary needs, from schools down to poor homes. It will also boost awareness on sanitary hygiene and kick out stigmas arising from menstrual emergencies. It will raise a lifetime awareness on discussions about the girl child and what the society owes to her growth and development, in a society that values her ambitions and struggles.
READ ALSO: Kalu advocates better funding for Justice, social..
Hygiene itself is a notable feature on the six pillars of Healthy Living with Nonye Soludo. The establishment of these pad banks validates the non-discriminatory approach of Mrs Soludo's popular crusade. Each school girl in Anambra State within the puberty age bracket is entitled to a pad.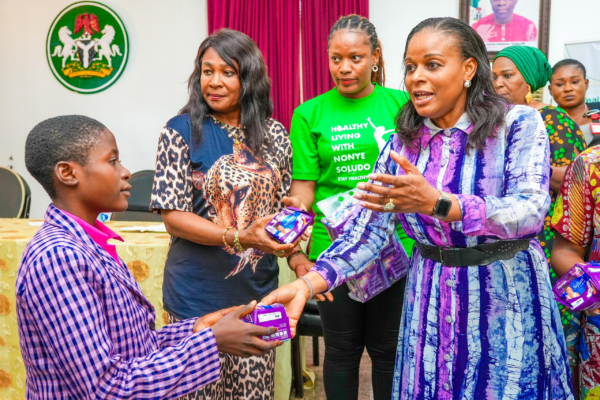 A closer study into Healthy Living with Nonye Soludo, invigorates certain insuppressible attention. One of which is that at the centre of the unique movement is an unhidden passion for mankind. Far from the politics of attention and power, Mrs Soludo is always well-pronounced and brilliant in her idea pattern. Here, Ndi Anambra, and anyone who has had the privilege of a close view, has found a different governor's wife.
The kind that understands her role as not just a mother of the state, but the finest lead of role models in first ladies. Undoubtedly, the Healthy Living Pad Bank is a project of passion. Akin to what the Anambra Governor's wife desires to achieve in the state, this one is a pragmatic step at a time it matters most. That is what Healthy Living with Nonye Soludo really stands for.